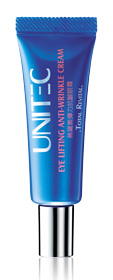 Description:
Formulated with multiple peptides, potent antioxidants and skin cell nutrients, this cream provides an extra recovering and revitalizing efficacy for the sagged skin around eye area. Regular use may reduce the visible signs of fine lines and dynamic wrinkle, reveal a firmer, lifting eye contour.
Skincare peptides have been extensively developed in recent years, the outcome is significant. Various peptides are formulated, and successfully improve skin problems including wrinkle, dryness and sagginess.
In this eye cream, three peptides are combined together to provide optimal anti-wrinkle effect with synergistic activity: pamitoyl oligopeptide is constituted of three amino acids, stimulating collagen production; palmitoyl tetrapeptide-3 protects existing collagen with its anti-inflammatory property; while palmitoyl tripeptide-5 reduces expression wrinkle.
Dark circles annoy lots people. Some causes could be responsible for it. Besides hyper-pigmentation, the dilation of blood vessels under eyes or breakdown of red blood cell plays important role. Here two active ingredients chrysin and N-hydroxysuccinimide work together to eliminate the metabolites of destructive red blood cells which darken the eye area.
Moisturizing and anti-oxidizing are always the basic rules to skincare. Swiftlet nest extract helps skin maintain strong moisturizing state on cellular level, and offers powerful antioxidant ability against ROS, reactive oxygen species, which attack skin cells and dermal matrix, worsening skin texture at all times.
This product takes care of almost every concern on eye area. It simultaneously solves wrinkle, dryness, puffiness, sagginess and dark circles.