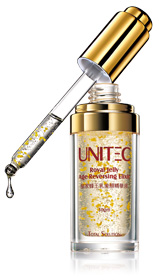 Description:
Infusing the essence of royal jelly from queen bee, a well-known vitality enhancer for overall function of body, also a precious ingredient for the rejuvenation of skin, this product offers effective support to rebuild skin, while protecting and repairing damaged sensitive skin, maintaining skin's healthy look with its highly nutrient and moisturizing properties.
For long human history, in eastern and western world, royal jelly has been a legendary nutrient for beauty and health purpose. This precious natural tonic is rich in multiple vitamins, amino acids, essential lipids, minerals as well as trace elements; all of these constitute a nutritive complex to deliver powerful rejuvenating result. In this Royal Jelly Age-Reversing Elixir, honey extract and propolis extract are combined with royal jelly to reach a total effects of anti-wrinkle, moisturizing and anti-inflammation.
With the help of multiple hydrating agents including hyaluronic acid, sodium hyaluronate, saccharide isomerate and beta-glucan from Cassia angustifolia (a senna plant) seed, Royal Jelly Age-Reversing Elixir brings skin long-duration moisturization through its outstanding water absorbing and retaining ability.
Ascorbic acid (vitamin C) and tocopheryl acetate (vitamin E) work together to fight against various free radicals, protect skin from damage caused by environmental attacks, e.g. UV irritation from sunray.
This preparation is not only for aged skin, it is also right for young user whose skin is easily to feel dull or dry.