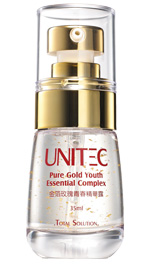 Description:
This extraordinary preparation combines precious gold, an ancient secret of beauty, with polypeptides which are the essence of latest biotechnology in skincare. It offers anti-wrinkle and anti-sagging properties, helps maintain radiant, moisturized and healthy, younger looking skin.
Gold has been acknowledged as a most valuable substance throughout human history; its prestige in skin care as a top quality material is also as long as its economic status. According to the reports, gold has been applied for skincare purpose in the form of mask, roller or cream. Modern science found gold own antioxidant and anti-inflammatory properties. This product utilizes Gold 99 -Germany manufactured thin gold leaves with certificate for purity and safety of edibility.
Three peptides are added to augment antioxidant, anti-free radical as well as anti-MMP activities. MMPs, matrix metalloproteinases, are collagen killers thus destroy skin texture as their levels stay constantly high.
Moisturizing is always an important key to skin care, particularly for aged or sensitive skin. Sodium hyaluronate has been well known for its extra high capability of water absorption. Beta-glucan, a polysaccharide ingredient of plant Senna (Cassia angustifolia) seed, provides another remarkable hydrating effectiveness with additional anti-inflammatory quality.
Other botanical ingredients include extracts of litchi fruit pericarp and swiftlet nest. Both are commonly thought as "essence of beauty" in oriental world for hundred years. They are combined to deliver more comprehensive effectiveness with natural attributes.