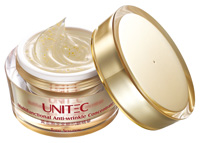 Description:
Fused with extracts of precious caviar and fish roe, swiftlet nest as well as several botanical essences, this exceptional preparation works to synergistically reduce all signs of aging and long-term accumulated damage, leaving a firmer, smoother, wrinkle-free skin.
Caviar is not merely one of the most exquisite food in the world, it's a luxurious cosmetic ingredient also. Basically, eggs supply all life-supporting essence that vitalizes living beings to grow and develop; they are rich in all sorts of nutrients like amino acids, peptides, growth factors, and energy material like ATP, or DNA, RNA substances.
Therefore the extract of fish egg delivers very powerful rebuilding, repairing activities to the skin. Here in this product, hydrolyzed roe which is certified as 1% of sturgeon egg extract is utilized, and boosted by hydrolyzed actin to reach a full function of reconstructing skin tissue. Actin, another protein substance needed for maintaining normal cellular activities, is also one of the key ingredients of this product. Both of roe and actin are in hydrolyzed form, their small molecular sizes are easily to be absorbed by the skin.
A nature sourced ingredient extracted from leaf of Alpinia galanga (a ginger family plant) presents a unique hyaluronan synthesizing activity in inner skin, uplifts hydrating level from within, and subsequently decreases wrinkle of skin with dramatic result.
The contribution of swiftlet nest extract is its significant anti-oxidizing and moisturizing effects. It helps skin possess strong defending mechanism to fight against destructive factors no matter of external causes like UV, or internal sources like free radicals. Overall, this Multifunctional Anti-wrinkle Concentrate gives you quick visible result and long-term protection effect.