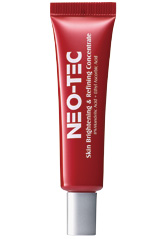 Description:
Retexturizes skin, lightens dark spots, evens skin tone with this concentrated serum. Combining all benefits of mandelic acid, ethyl ascorbic acid and bio-innovative peptide in one, produces a fast effectiveness for dull, rough and spotted skin. It's powerful yet gentle for everyday use. For all skin types.
As an alpha-hydroxy acid, mandelic acid exfoliates thickened outermost layer of skin called stratum corneum which is piled by dead skin cells and become roughness. After the exfoliation, skin shows smooth, subtle, meanwhile the color tone changes into whiteness and brightness. It is because some extent of melanin particles are removed joining together with aged cutin.
Ethyl ascorbic acid is a powerful antioxidant and also an efficacious whitening agent which blocks the production of melanin, the origin of darkness of skin tone. The combination of mandelic acid working on eliminating existing melanin, and ethyl ascorbic acid acting for depressing the formation of melanin is truly a rooted way for de-pigmentation.
Furthermore, an innovative whitening active oligopeptide-68 is added to reinforce whole de-pigmentation outcome. As a biomimic of TGF-ß which plays a stimulating role in melanin synthesis pathway, oligopeptide-68 interferes the production of substances such as MITF, TRPs etc. which are necessary to the following melanin synthesis. This de-pigmentation action takes place prior and differs to traditional whitening agents which usually work on tyrosinase-deactivation at the later stage of whole melanin synthesing cascade.
So the skin whitening job here is a trio with uncut playing. Oligopeptide-68 participates in the first stage reducing the activation of tyrosinase, a key molecule in melanin production. Ethyl ascorbic acid is responsible for inhibiting the activity of tyrosinase, lessening the amount of tyrosine transformed to melanin. Lastly mandelic acid takes off existing melanin particles clotting in stratum corneum.
Ingredients:
Mandelic Acid + Ethyl Ascorbic Acid