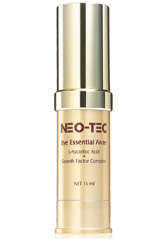 Description:
A highly efficacious formulation utilizing L-ascorbic acid, a potent antioxidant and also a skin collagen activator, combined with growth factor and peptide complex developed to help smooth out fine lines and wrinkles synergistically. Dramatically improves the texture and elasticity of skin around the eyes.
L-Ascorbic acid plays an important role in the process of collagen synthesis; it is essential for the construction of skin.
Growth factors, a group of signaling protein, are activating force of cellular growth and proliferation. As skin gets aged, this driving strength fades and skin loses its vitality. Among all growth factors, EGF and FGF are considered essential in the constituting process of skin tissue.
Peptides used in skincare are substances constituted by amino acid units just like growth factors, but their sizes are much smaller than growth factors and easy to penetrate skin. They have diversified functions and benefits to the skin. Here four peptides are combined to deliver integral anti-wrinkle and firming effect in a synergistic way. The palmitoylated forms ensure their skin penetration.
Other ingredients like stearyl glycerrhetinate offers instant soothing effect, while N-acetylglucosamine and astaxanthin benefit skin with powerful antioxidant activities and improve skin tissue in long term use. All of these combined to help eye area lifted and firm.
Ingredients:
Growth factors + Peptides Complex