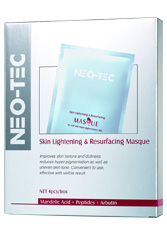 Description:
Formulated with multiple skin lightening agents to synergistically reduce hyper-pigmentation, helps even skin tone in an efficacious way. Also transforms your skin into a refined, flawless look in a short term.
Mask is a preparation form with convenience for use as well as efficiency for activeness. The sealing effect ensures all ingredients absorbed optimally. On the other way, all ingredients used should be carefully chosen in order to avoid possible irritation. In this mandelic acid based mask, whitening agents including α-arbutin, two peptides, blend of botanical extracts are well formulated with balance in each concentration.
Melanostatine-5, a nine-amino acid peptide, occupies the receptor site of α-MSH (melanin stimulating hormone) on melanocyte to block the initiation of melanin producing process. Oligopeptide-68, another bio-peptide constituted of twelve amino acids, reduces the production of substances needed to activate tyrosinase in melanocyte, thereby also inhibit the final presentation of melanin. All these two peptides exert their whitening function on cell nucleolar level, it's believed to be more rooted and powerful than traditional de-tyrosinase agents.
Certainly arbutin has its contribution as a tyrosinase activity depressor. It has frequently been used for its reliability and safety. In this product, alpha type of arbutin is utilized for the higher stability.
Plants often provide natural actives with amazing effectiveness for skincare purposes. Here we get high content of vitamin C from extract of rose hip, that of flavone from iris root and glucoside complex from chamomile. They deliver comprehensive antioxidant, soothing, anti-wrinkle and skin whitening activities.
Sclerotium gum is the fermentative produce of Sclerotium fungus. It's rich in β-glucan therefore possesses exceptional soothing and hydrating effect nearly comparable with hyaluronan. It is a desirable quality that a facial mask particularly works for.
Recommended for dull or hyper-pigmented skin.
Ingredients:
Mandelic Acid + Peptides + Arbutin