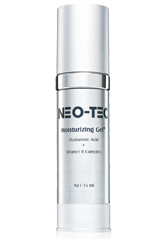 Description:
An oil-free moisturizing gel containing extraordinary high concentration of hyaluronic acid and multiple ingredients of vitamin B group, works to hydrate skin and repair the damage due to dryness. An additional peptide functions to induce the biosynthesis of GAGs from skin within, thus firms and remodels the skin with high efficacy. Use to get a silky skin touch immediately; improve the skin texture with regular application.
Hyaluronic acid is an important constituent of dermis, plays a major role in maintaining this inner layer of human skin in hydrating state, through its outstanding ability of water adsorption. Hyaluronic acid is widely used in skincare products recently for its moisturizing value. NEOTEC Moisturizing Gel + utilizes HA of natural source derived and then purified from cockscomb, but not microbial and chemically processed origin in order to deliver the best quality moisturizing.
In addition, various ingredients of vitamin B group are combined to help restore skin, especially as damage occurs no matter by intrinsic or extrinsic factors. These nutritive elements serve as basic, necessary vital essentials for the whole human body including skin.
Ingredients:
Hyaluronic Acid + Vitamin B Complex