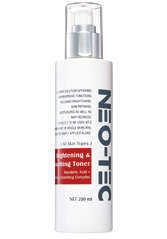 Description:
This toning solution provides multiple skin functions covering brightening, refining, moisturizing as well as anti-redness in one preparation. Combining clinically proven skin resurfacing agent, also a penetration enhancer, with several efficacious cosmetic actives to deliver synergistic strength, makes this toner an excellent foundation for the whole skincare regimen.
Mandelic acid is one of alpha-hydroxy acids which exfoliate accumulative cell metabolites of the outer skin layer, to improve skin texture and clarity with clinical proof. It is mighty enough to remove those skin residue, yet still gentle to skin. Mandelic acid's lipophilic nature makes it easy to penetrate into skin, brings visible brightening effect just after short time usage.
Hyaluronan absorbs water in large, therefore helps moisturize the skin. Moreover, an organic type compound of sodium PCA, magnesium PCA, zinc PCA and manganese PCA offers skin necessary trace elements for healthy skin tissue.
A wide range of botanical extracts are incorporated and accurately formulated to make this product owning a "cocktail therapy"-like effect; the benefits are broader efficacies with lesser stimulation. In fact, the combination forms a skin whitening complex. Though as a basic skincare item, this preparation provides comprehensive activeness much more than toners usually do; it acts almost like a multifunctional face serum.
Ingredients:
Mandelic Acid + Whitening & Soothing Complex