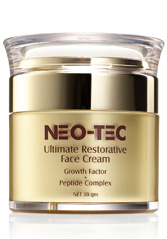 Description:
A potent combination of antioxidants, peptides and growth factors works synergistically to regenerate and transform the skin for a more youthful appearance.
Growth factors are innate protein molecules which act as signaling substance to trigger cellular growth and proliferation. They are essential for integral tissue reconstruction process. Unfortunately the levels of these vital factors become lowering as skin is aged. The application of adequate and prosperous growth factors to the skin will make up for this deficiency.
EGF (Epidermal Growth Factor) and bFGF (Basic Fibroblast Growth Factor), now named Rh-Oligopeptide-1 and Rh-Polypeptide-1 respectively in INCI, work together to stimulate the multiplication of skin cells including epidermal cells and fibroblasts etc. This results a firmer, resilient skin.
Peptide technology becomes noteworthy nowadays. They offer diversified functions to strengthen total efficacy of skin care actives. In this product, two peptides (dipeptide and tetrapeptide) are added for the purpose of collagen protection.
Furthermore, a unique ingredient Teprenone is combined to the formulation in order to present an enhanced synergistic effect with growth factors. Basically, Teprenone endures the lifespan of cells through a way of cell DNA protection. This uplift of intrinsic vitality of cells forms a solid ground for the optimal activities of growth factors.
This elegant cream meets all requirement of aged or fragile skin, including anti-wrinkle, deep moisturizing, de-sagging and brightening. It's also ideal for some young yet easily damaged skin. The result is dramatic and visible.
Ingredients:
Growth Factors + Peptides Complex