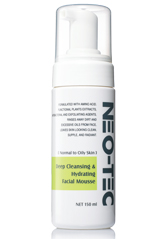 Description:
Formulated with amino acid based rinsing agent and several functional plant extracts, this foaming cleanser is gentle while providing exceptional cleansing capability. Antibacterial and exfoliating agents are combined to treat problems and imperfections happened on oily skin, such as acne and pore-clogging that usually associated with thickened outer skin layer and excessive sebaceous secretion. Leaves skin looking clean, refreshing, and radiant.
Potassium cocoyl glycinate, an amino acid derived molecule with great cleansing activity, while combining betaine salicylate, a natural sourced exfoliating agent with high skin-affinity, results in an ideal cleansing base for oily skin. The mousse form is efficient to rinse out all impurities over whole face area.
Moisturizing is important for all skin even oily or acne-prone type which is usually annoyed by over-secreted lipid. Sometime they still have the problem of dryness. It could be caused by the damage of skin's natural moisturizing factor happened after repeated over-cleaning. Botanical extracts of algae, magnolia, olive are blended to offer adequate hydration.
Physical damage or irritation also arises on the case who deliberately wash out excessive oil. In this product, dipotassium glycyrrhizate, chamomile extract and Thujopsis dolabrata (a Japanese conifer) extract are infused together to soothe stimulated skin with their anti-inflammatory property.