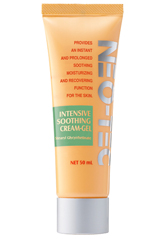 Description:
Formulated with sunflower oil to help rebuild the epidermal barrier, this stearyl glycyrrhetinate-based preparation provides skin with a comprehensive repairing function alongside its well-known soothing effect. Use to repair skin damage caused by sunburn, contact with environmental pollutants, or dermo-medical procedures. Fast acting, and with no accumulative side effect even with frequent or long-term application.
Various grade of redness occurs after skin gets stimulated. The stimulation could be caused by physical or chemical aggressions, including UV, dermo-cosmetic procedures, even by daily used cosmetics. Frequent skin stimulation induces inflammation, then damages skin tissue. Therefore the application of calming substance for soothing purpose is important to avoid the impairment of skin. Stearyl glycyrrhetinate is an ester derivative of glycyrrhetinic acid, exhibits powerful anti-inflammatory effect with good skin absorption and safety.
Several botanical extracts and sunflower seed oil are combined to work on the recovery of damaged skin outer barrier, stratum corneum. Lipids are important constitutes of this outer layer of skin. Fortified anti-oxidizing power helps skin's internal and external self-protection
Another benefit of this botanical extract mix is its innate antimicrobial activity. When treating damaged or reddened skin, it's crucial that minimize the possibility of further irritation, or skin gets deepened harm. In some cases, preservative used in anti-redness product could be one of origin. No ordinary chemical preservative is added in this preparation.
Ingredients:
Stearyl Glycyrrhetinate